Visitor's Guide to The St. Augustine Pirate & Treasure Museum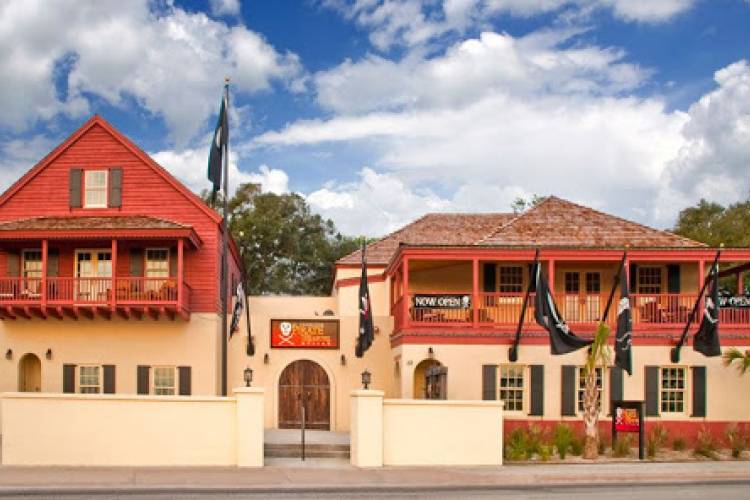 Avast ye, Scallywags! Hoist up the anchor and set your sails for the Historic Bayfront in downtown St. Augustine! Visit the famous Pirate & Treasure Museum, as featured on CNN, the Today Show, and the History Channel.
The St. Augustine Pirate and Treasure Museum is laid out like a ship, with different sections that include artifacts pertaining to each area. See navigational tools used by pirates from the 17th century in Port Royal, gaze upon an original Jolly Roger flag in the Captain's Cabin, and touch a 400-year-old treasure chest on Shipwreck Island. 
There are dozens of artifacts, so come prepared to read and learn all about famous pirates, how they lived, and their influence on history and Hollywood movies.  
Here are two tips to make sure your experience is even more memorable:
Go Below Deck and enter a small darkened cell, made to feel like you're on a pirate ship. Guests put on headphones and hear a pirate's tale about the last few minutes of Blackbeard's life and searching for his treasure. The recording lasts for 3 minutes and provides an immersive experience.
Complete the treasure hunt throughout the museum for a special prize!  All visitors receive a museum map and pencil when tickets are purchased. Search for 12 treasure drawers, marked with a worn skull and crossbones. This is especially rewarding for younger children.
Located across from the Castillo de San Marcos Fort, the St. Augustine Pirate & Treasure Museum is sure to be a highlight of your next vacation to our coastal town.
St. Augustine Pirate & Treasure Museum Info
Address: 12 South Castillo Drive, St. Augustine, FL 32084
Phone: 877-467-5863
Book Your St. Augustine Vacation With Us Today
Contact us today to begin your journey to the Nation's Oldest City.  Discover our premium vacation rentals and find out why we are the Best of St. Augustine!