A Guide to The St. Augustine Amphitheatre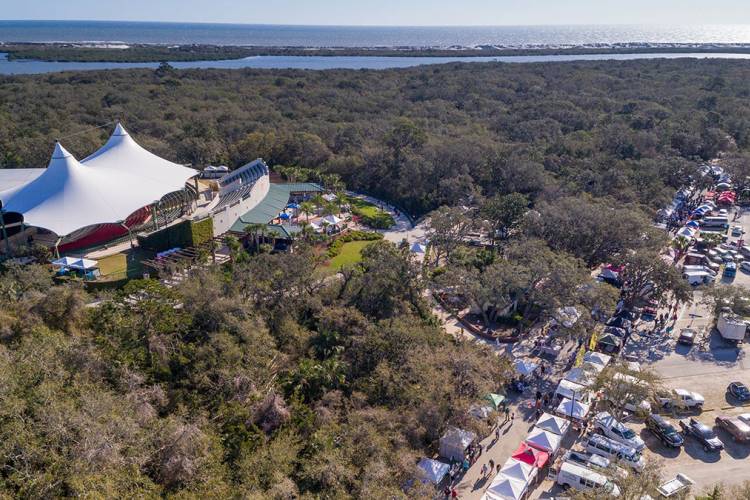 While the Nation's Oldest City is known for its beautiful beaches and historic attractions that attract millions of visitors each year, St. Augustine also has numerous facilities that host community events, live music concerts, and cultural experiences. One of the most popular entertainment spots is the St. Augustine Amphitheatre. 
The St. Augustine Amphitheatre is a 4,100-seat covered outdoor amphitheater that began as a home for the State of Florida's annual Cross & Sword production, which dramatized the history of Pedro Menendez landing and settling in St. Augustine over 450 years ago. After the show's 32-year run ended in 1996, St. Johns County refurbished the site and a new era of entertainment was born for St. Augustine.   
While COVID-19 did impact 2020 concert events for the Amphitheatre, new shows are being scheduled all the time, with updated safety measures in place.  The facility undergoes enhanced cleaning, promotes social distancing by reducing capacity to events and having designated seating, and also requires all attendees to wear a face mask and get a temperature screening upon arrival.  Guests are able to remove their masks in their ticketed seat.  For more information, please visit the St. Augustine Amphitheatre.
Whether you're in town to attend one of the amazing concerts "The Amp" hosts or just happen to drive by and see it on the way to the Historic District from your beachside condo, here's everything you can do at the St. Augustine Amphitheatre:
World-Class Music Performances
What better way to remember St. Augustine as a fantastic beach destination than to attend an unbelievable live concert put on by one of your favorite bands! From Robert Plant to Jack Johnson, John Legend to Sublime, The Amp has hosted hundreds of popular musicians to sold-out crowds. 
Enjoy a crafted cocktail made with local St. Augustine Distillery spirits as you sing your favorite songs. 
The venue offers free parking shuttles a few blocks away at Anastasia State Park, but if you don't feel like waiting in line, splurge on a $20 premium parking ticket when you purchase your concert tickets so you can park in the amphitheatre's premium lot.
Free Concerts at the Sing Out Loud Festival
Did you say FREE CONCERTS?! We sure did! The annual Sing Out Loud Festival, which takes place every September, is an amazing way to experience local, regional, and national artists without spending a dime. 
The Amp utilizes all three of its stages, and along with numerous other participating venues, such as Colonial Oak Music Park and Sarbez, visitors have the opportunity to discover new musicians while enjoying different areas of Historic St. Augustine.
Cultural Community Events
From children's arts & crafts festivals to musical presentations, guests of all ages can gain cultural awareness during one of The Amps community events, many of which are free. 
Not only will you enjoy an awesome day or night out with your family, but you'll also be participating in community outreach that will enhance the local St. Augustine cultural scene for many years to come.
The Farmer's Market & Night Market
More FREE events?! Yes indeed! The Farmer's Market is free and open to the public ever Saturday from 8:30 am to 12:30 pm. Fresh, locally grown produce, prepared foods, and arts & crafts are available for everyone to browse through and purchase. 
Seasonally, The Night Market takes place every second & fourth Tuesday from March through October from 6 pm to 9 pm. Besides having access to more local vendors, The Night Market adds food options for dinner, a full bar, and live music.  And again, admission and parking are free!
Secure St. Augustine Vacation Rentals With Us
Grab those concert tickets and reserve a dream vacation in one of our stunning beachside or oceanfront condominiums.  Contact us today for more information on how to make your St. Augustine vacation filled with non-stop fun and unforgettable memories.